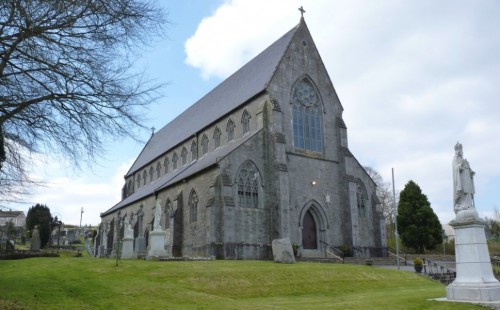 ---
Mass Times
Sat 11th Nov at 7.00pm:
Paul Davey, Killenaule / Wexford – 3rd Anniversary.
James & Margaret Lyons; Jimmy & Jenny Lyons & Deceased members of the Lyons Family, Kilkennybeg.
Reader: Breda Farrell.
Sun 12th Nov at 11.00am:
Reader: Elaine Harrington / Celebrant: Canon Tadhg Mullins
Sat 18th Nov at 7.00pm:
Declan Hayes, Dunguib – 10th Anniversary.
Reader: John Guiton / Music By: Folk Group
Sun 19th Nov at 11.00am:
Reader: Mary Tierney
Morning Mass:
Mon, Tues, Wed, Thurs. & Fri at 10:30am Parish Rosary after Mass each Morning / Legion of Mary Tues 7.30pm / Exposition of Blessed Sacrament on Wednesdays from 11am-6pm
---
Sincere Thanks:
Offertory (incl. Holy day): Killenaule: €1,107.00 Moyglass: €621.12
Mission Collection: Moyglass: €12.80
---
St. Joseph the Worker Church – Moyglass
Sat 11th Nov at 8.00pm:
Tom & Peggy O' Dea, Ballyvaden.
Bridget Kennedy, Lurgoe House – 3rd Anniversary.
Reader: Majella Walsh / Eucharistic Minister: Mary Teresa Feehan
Sun 12th Nov at 10.00am:
Deceased Members of the Legion of Mary – Killenaule
Reader: Mary Richardson / Eucharistic Minister: Jean Farrelly
Sat 18th Nov at 8.00pm:
Deceased Members of the Curran Family, Moyglass.
Reader: Mary O' Meara / Eucharistic Minister: Jim O' Meara
Sun 19th Nov at 10.00am:
Pat Grant, Fethard, Folkstown.
Reader: Tom Hayes / Eucharistic Minister: Bridget Sheehan
Masses for the Coming Week:
Tuesday to Friday at 9.30am / Adoration on Thursday at usual times.
---
St. Mary's NS -10: 6th November 2017 / Parent Teacher Meetings 2017 PTMs will commence the week of Monday 20th November.
Cake Sale 2017 – Parents Council The Parents Council are holding a Cake Sale on Sunday 12th November after 11.00 a.m. Mass in St. Mary's Hall. They will happily receive any baked items you can donate from 9.30 a.m. on Sunday 12th. A sincere Thank You to all businesses in the town who were so generous in sponsoring some nice prizes for a Raffle which will be held on the morning. All proceeds will go to the Fund for essential refurbishments in the school
Christmas Shoebox Appeal 2017 Final call for Shoe Boxes!! We really need those Shoe Boxes this week. They will have to be taken to Depot by Monday 13th November at the latest
Science Week Science Week commences on 12th –November. Rang 5 & Rang 6 will be attending a Brown Bag Activities & STEM Design and Make Workshop in St. Patrick's Campus Thurles on Monday 13th November . On Thursday 16th November Rang 3 & Rang 4 will be going to The Ugly Animal Show in St. Patrick's Thurles. Both Workshops will be facilitated by staff and students from MIC.
---
Exhibition of the Life & Times of Canon Edmond Kelly Parish Priest of Killenaule 1937-1955 is on display in the Killenaule Library for the month of November; definitely worth a visit.
---
Rosary in the Graveyards every Sunday for the month of November.
Thanks to the Legion of Mary
Moyglass: after 10 o'clock Mass
Cooleagh: 2.00pm
St. Johnstown: 2.30pm
Lanespark: 3.15pm
Magorban: 3.15 pm
St. Marys: 2.00 pm
River Street: 2.30pm
Crosscannon: 3.00pm
Ballinure: 3.15pm
Garden of Remembrance: 3.00pm
---
Independent Living at Home
Alarms for the over 65's, 24 hour link to monitoring service 365 days a year. Yearly fee €66.00.
For details contact Breda on 085-8661586 /
Anna on 087-2338384
---
Health & Well Being Event for Older Adults
Millennium Family Resource Centre Glengoole
Wednesday 22nd Nov. 12 o'clock to 1.30 – cost of €5 will include a light lunch. Speakers will discuss importance of Nutrition in Older Age, Gentle Exercises and Relaxation Techniques. To book a place contact Julie on 052 9157992.
---
Bridge Club
Mass for Deceased Members in St. Mary's Hall on Thurs 16th Nov at 7.00pm
---
Anam Cara, the organisation that supports bereaved parents, is holding its next monthly Parent Evening on Monday 20th of November from 19:30 to 21:00 in the Horse & Jockey Hotel, Thurles, Co. Tipperary. This event is open to all bereaved parents regardless of the age your child died, the circumstances of their death, or whether the death was recent or not. We'd be very grateful if you could help us get the information out to bereaved parents in your community. For more information see anamcara.ie or call our Information Line on 085 2888 888.
---
Date for Diary
Launch of Parish Journal by William Nolan on Sunday 3rd December in Scoil Ruain.
---
Car Park Development
We have received written confirmation during the week from Tipperary County Council that our grant application for 100 Car Park Spaces at St. Mary's Church for €100,000 has been successful under the Town & Village Renewal Scheme. We now proceed to the design and planning stage. This new car park facility will be a great benefit for Car-parking for all occasions, the school and town. A Meeting will be held in St. Mary's Hall on Monday 20th November at 7.00pm, to Plan, Prepare & Discuss next stage. All are welcome.
---
Killenaule Active Retirement
Would like to thank all who supported their Coffee Morning on Friday 3rd November. Thanks to all who helped, baked cakes and donated items for sale and raffle. Proceeds of €640 will be forwarded to our local Alzheimer's Branch in Clonmel.
1st Prize: Hamper – Joan Prendergast.
2nd Prize: Breda O' Grady
3rd Prize: John Mc Ginn
4th Prize: Ann Kennedy
5th Prize: Mary Sirr
6th Prize: Pat O' Connor
---
Slieveardagh Rural Dev – Killenaule – Christmas Raffle
1st Prize: Tonne Bag of Seasoned Ash Firewood
2nd Prize: Large Luxurious Christmas Food & Drink Hamper
3rd Prize: Large Luxurious Spa Hamper
4th Prise: Large Tin of Hero Chocolates.
Raffle will take place on Wed 20th Dec in Slieveardagh Centre. €2 per line or 3 lines for €5.
Lines on sale in the Slieveardagh Centre.
---
Killenaule GAA
AGM on Sun 3rd Dec at 5pm. In Sports Complex
---
Moyglass Sale of Work
On Sunday 19th Nov at 1.30pm in Moyglass Hall, in aid of The Senior Citizen's Party.
—————————————————————————-
Moyglass Senior Citizen's Party on Friday 8th December
---
Moyglass Community Christmas Party Night
On Saturday 9th December 2017, In Moyglass Sport & Leisure Centre. Music By: Montana; from 10pm to 12 Midnight followed by D.J. Kumar until 2am. Doors open at 6.30pm. Meal served at 7.30pm. Full Bar on the Night. Tickets €25.00
---
---
Fr. Jimmy 086-8184787
Fr. Danny 086 – 2402482