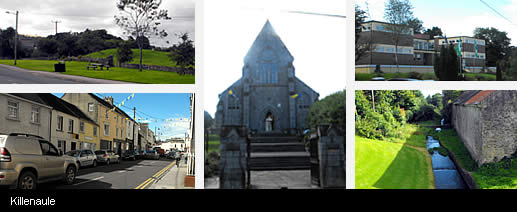 Killenaule and Moyglass
Parish Newsletter
Saturday 13th and Sunday 14th May 2017.
newsletter 14th May 2017 (PDF Version)
---
Mass Times
Sat 13th May at 7pm: Mick & Mary Hassett, Bailey Street.
John & Mary Rafter, Cashel Road.
Tom & Cissy Sweeney, Cashel Road.
Reader: Liz Guinan
Sun 14th at 11am: Pat O Sullivan, Kylenahone – 6th Anniversary.
Denis Corbett & Andy Corbett, Ballynonty.
Matt, Lizzy & Josie Power, Mardyke.
Reader: Catherine Kelly
Sat 20th May at 7pm: Martin Guitan, Lanespark & Deceased Members of Guitan Family, Lanespark
Mick & Bab Kelly, Cashel Road & Darren Norton.
Reader: Margaret Bergin
Sun 21st May at 11am: Gerard Hegney, Elizabeth Hegney & Anastacia O' Gorman, Killenaule.
Reader: Una O' Grady.
Morning Mass: Mon, Tues, Wed, Thurs. & Fri at 10:30am Parish Rosary after Mass each Morning / Legion of Mary Tues 7.30pm /
Exposition of Blessed Sacrament on Wednesdays from 11am-6pm
---
Sincere Thanks:
Offertory Collection: Killenaule: €733.80 Moyglass: €390.00
Collection: Killenaule: €220.00
---
Pray for – Michael Dunne, Bailey House / Mullinahone – RIP
---
St. Joseph the Worker Church – Moyglass
Sat 13th May at 8pm: John O'Connell, Cattaganstown & Grandmother Christine and Deceased Members of the O'Connell Family.
Reader: Mary Shelly / Eucharistic Minister: Mary Teresa Feehan
Sun 14th May at 10am: John Skeehan, Clonbrogan.
Reader: Barry O' Reilly / Eucharistic Minister: Jim O' Meara
Sat 20th May at 8pm: Special Intention
Reader: Elaine Harrington / Eucharistic Minister: Jim O' Meara
Sun 21st May at 10am: Peter Considine, Waterford.
Mary, Tom & Sonny Gleeson, Coolnure.
Reader: Joan Quigley / Eucharistic Minister: Jean Farrelly
Masses for the coming week: Tues to Fri at 9.30am / Adoration on Thurs at usual times
Date for your Diary: Moyglass Cemetery Mass on Sunday 25th June at 10am
Tony & Majella (Sacristans) would like to thank all who contributed to the Sacristans Collection. Thank You.
---
Many thanks to all those who returned your tax-back forms to the Parish and your great response. We appreciate your support. These forms allow the Parish to claim the tax back from the government / exchequer that you previously donated during the years 2014/2015/2016 over the required threshold.
—————————————————————————
All volunteers to the Church are now requested to complete a Garda Vetting form online. This is now standard practice within all Churches in Ireland. We thank all our volunteers who have completed them. Forms are available in Sacristy.
---
Anam Cara, the organisation that supports bereaved parents, is holding its next monthly Parent Evening on Monday 15th of May from 19:30 to 21:00 in the Horse & Jockey Hotel, Thurles, Co. Tipperary. This event is open to all bereaved parents regardless of the age your child died, the circumstances of their death, or whether the death was recent or not.
---
Ring a link bus : door to door service available to Clonmel every Thursday morning starting from 8.30 , return 12.30 . Free service with bus pass. Also service available on Wednesday and Friday for shopping / pensions to Killenaule to coincide with Shamrock buses to Thurles or Clonmel . To register or enquire phone 1890 42 41 41
---
Slieveardagh Rural Development
Will hold their AGM on Monday 22nd May 2017 at 8pm in Slieveardagh Centre, Killenaule. All welcome.
---
Millennium Family Resource Centre
The Chiropodist will attend the Millennium Family Resource Centre on Thursday 18th May.
Tel 052-9157992 for appointment.
---
Vocations Sunday 2017:
Every single person has a vocation, a calling, a dream held for us by God as to who God would have us be and what God would have us do with our lives. If you calling is Priesthood and you would like to chat about Priesthood in Cashel and Emly Diocese please contact Fr. Joe Walsh, (Vocations Team) 086-7714888
---
Laudato Sí: Care of Our Common Home
Pope Francis recent Encyclical Laudato Sí encourages us to care for the earth. A Programme of awareness-raising and training is planned for the month of May 2017. Workshops are being held in Cabragh Wetlands on Sat 6th, 13th, 20th & 27th May from 10am to 1pm with light lunch provided. This can have a positive impact in a variety of ways and the workshops would hopefully support people in deciding what steps, large or small, could be initiated in their own parish communities regarding environmental issues. If you are interested in participating in this programme please contact the Diocesan Office (0504) 21512 or email office@cashel-emly.ie
---
Do not let your hearts be troubled – A Reflection
'Worrying is carrying tomorrow's load with today's strength – carrying two days at once. It is moving into tomorrow ahead of time. Worrying doesn't empty tomorrow of its sorrow, it empties today of it's strength'.
We have our own anxieties, whether big or small. None of us knows how the future is going to turn out, and that is precisely why we tend to worry. In today's Gospel, Thomas frets: 'Lord, we do not know where you are going, so how can we know the way?' But Jesus has reassuring words. 'I am the way'. Hand in hand with Jesus, we can walk the road ahead.
---
Ballinure N.S – Are currently running a used clothes collection. Items accepted include cloths, footwear, handbags, accessories, bed linen, curtains etc.. No pillows, duvets or cushions please. Items can be dropped at the school before the 8th of June or to arrange collection call / text 086-1558431. We would like to thank all who attended our recent Anti-Bullying Talk. We hope they found it helpful and informative.
---
St. Mary's Central National School Killenaule – Website: www.killenaulens.weebly.com Twitter: @killenaulens
First Holy Communion – First Holy Communion was celebrated at 11.00 a.m. in St. Mary's Church on Saturday 13th May. This was a very special day in the lives of our young boys and girls in Rang 2. We would like to thank all those that helped on the day.
CumannnamBunscoil On Wednesday our U11 Hurling Panel headed to Cashel to participate in the U11 Blitz. They gave a brave display and we trust that everyone enjoyed participating.
Book Rental We look forward to receiving all Contracts and Application Forms for Book Rental this week. We would like to thank all those that are supporting the scheme again this year for their continued commitment.
Active Schools Week A sincere thank you to our Parents Association for coming on board and serving Ice Creams to all the boys and girls after last weeks skipathon. We raised €260 for Down Syndrome Ireland.
County Showcase in Anner Hotel As you may be aware Rang V1 participated in a JEP Project earlier this year. The children made a great effort with this project and worked very hard on all stages. On Tuesday 23rd May we have been invited to attend the County Showcase in Anner Hotel Thurles. This is an opportunity for the children to see all the other JEP projects completed in Tipperary. We will have our own Display Area and the children will show their fellow schools what they themselves did. We will be given back our JEP Folder on the Day. It is a celebration of their work. It starts at 11.15a.m. and if you would like to pop in to show them your support you would be very welcome on the day.
Standardised Testing We will be starting our Standardised Testing in English and Maths over the next fortnight. We would ask that in as far as is possible to have all children present when Testing is going on.
---
Fr. Danny 086 – 2402482
---
---