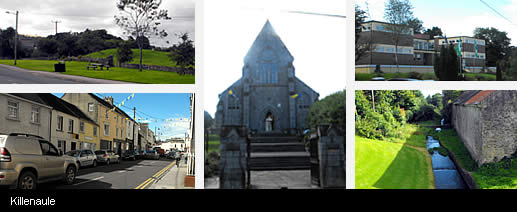 newsletter 8th Oct 2017 (PDF Version)
Mass Times
Sat 7th Oct at 7pm:
William Fanning, Burnchurch – 13th Anniversary.
William, Bridget, Austin Healy & Jim Maher – Ballynonty.
Reader: Patsy Burke. Music By: The Folk Group
Sun 8th Oct at 11am:
Reader: Lily Barrett.
Sat 13th Oct at 7pm:
Bridget Kennedy, Lurgoe – 3rd Anniversary.
Josephine Burke.
Reader: William O' Grady.
Sun 14th Oct at 11am:
Eileen & Paddy Kelly.
Anna Gordon, Knockavardagh.
Reader: Siobhan Duggan.
Morning Mass:
Mon, Tues, Wed, Thurs. & Fri at 10:30am Parish Rosary after Mass each Morning / Legion of Mary Tues 7.30pm / Exposition of Blessed Sacrament on Wednesdays from 11am-6pm
---
Sincere Thanks:
Offertory : Killenaule: €890.00 Moyglass: €425.00
Autumn Clergy Collection: Killenaule: €150.00
---
St. Joseph the Worker Church – Moyglass
Sat 7th Oct at 8pm:
Reader: Majella Walsh / Eucharistic Minister: Ann O' Dea
Sun 8th Oct at 10am:
Reader: Tom Hayes / Eucharistic Minister: Jim O' Meara
Sat 14th Oct at 8pm:
Mary Costigan, Moyglass.
Reader: Elaine Harrington / Eucharistic Minister: Margaret Ryan
Sun 15th Oct at 10am:
Months Mind Mass – Thomas Lawrence, Kilkennybeg & Deceased Members of the Lawrence Family.
Months Mind Mass – Joan Neville, Mobarnane.
La Morrissey, Rathduff.
Dick & Evelyn Hackett, Lismortagh.
Reader: David Curran / Eucharistic Minister: Bridget Sheehan.
Masses for the coming week:
Tuesday to Friday at 9.30am / Adoration on Thurs at usual times. All Welcome
---
County Senior Football – County Final
Best of Luck to Killenaule V Clonmel Commercial on Sun 15th Oct in Semple Stadium at 3.30pm
---
How to Read the Bible: A Course for Beginners and For Those Who Have Forgotten How! For many people reading the Bible can be a daunting task. Where does one begin? How does one make sense of it? "How to Read the Bible" is an 8-week course open to anyone, especially beginners, who would like to discover more about the Bible.
Times and Venues: Ballykisteen Hotel, Tuesdays 7.30-8.45pm, starting 24 October in Parish Centre Cashel, Thursdays 7.30-8.45 pm, starting 26 October, St Patrick's College Thurles, Tuesdays 7.30-8.45 pm starting 24 October.
Commitment required: A willingness to participate in all eight sessions and to undertake some reading and light study (up to two hours weekly) between sessions.
Cost: There is no charge. Each participant will receive the course book and a Christian Community Bible (Catholic Pastoral Edition), the particular bible that will be used throughout the course.
Course Book: Brendan McConvery C.Ss.R. How To Read The Bible: A Manual For Beginners And For Those Who Have Forgotten How, Redemptorists Communications Ireland, 2009. Fr. Brendan McConvery C.Ss.R., a much respected Irish Biblical Scholar who taught scripture at St. Patrick's College Maynooth for many years, designed this 80-page book to support engagement with the Bible. Its simple, user friendly style invites exploration in a non-threatening and accessible way. Through it Fr. Brendan provides the reader with the tools to unearth the richness of both the Old and New Testaments, and even to pray with them. It lends itself nicely to group exploration, supporting course participants in widening their understanding of scripture.
Please contact: For queries or to book a place: email IIPS@mic.ul.ie Phone 0504 20590
---
Centra – Breast Cancer Walk
The Centra Breast Cancer Walk due to be held on Sunday 15th October is now postponed due to the Football County Final. The Walk will take place on Sunday 22nd October at 2pm from the store. €10 Registration / Children Free. Register in Store or on the Day.
---
Anam Cara, the organisation that supports bereaved parents, is holding its next monthly Parent Evening on Monday 16th of October from 19:30 to 21:00 in the Horse & Jockey Hotel, Thurles, Co. Tipperary. This event is open to all bereaved parents regardless of the age your child died, the circumstances of their death, or whether the death was recent or not.
---
Spiritual Exercises of Saint Ignatius (silent retreat) will take place at St. Aidan's Monastery, Ferns, Co. Wexford. For women aged 18 years and up. From Friday 27th Oct to 31st Oct 2017. Places are limited. Please book early. For more information contact 085-8235525
---
Results Of Moyglass Hall Draw
1st Prize: Sean Gleeson.
2nd Prize: Eilish Thompson
3rd Prize: Pat Keaveney
4th Prize: Freddie Sweeney.
5th Prize: Johnny Hanley.
---
Ann O' Dea would like to thank all those who supported her Coffee Morning in aid of South Tipp Hospice. Amount Collected €1,015.00
---
New Inn Novena Friday 13th October – 7.30pm nightly.
---
Rosary for the Protection of the Unborn will be recited in Liberty Square Thurles at the Sacred Heart Statue opposite Tesco at 12 noon on Wednesday 11th October 2017. Please come and join us in prayer at this very serious time.
---
St. Mary's N.S.
G.A.A. Coaching On Friday 29.09.2017 morning our U 13 panel played Fethard. It was a great match and whilst we weren't victorious on the day great credit is due to all our players. They showed tremendous spirit& heart and really closed a big deficit in second half. We play Moyglass in our third & final match of this round in Killenaule . On Wednesday Rang 1 & Rang 2 had their GAA Coaching up in Scoil Ruain. This is a new venture for us and we are very grateful to our local G.A.A. Club for organising this new initiative.
Yard Buddies Our Yard Buddy system is going from strength to strength. Pupils from Rang 6, Rang 5 & Rang 4 are now playing games with both Ms O'Mahoney and Ms Cantwell's classes. Mol an óige agus tiocfaidh sí.
Christmas Shoebox Appeal 2017 As stated in last week's Imlitir, we will be collecting shoeboxes again this year. Information Leaflets are being handed out this week and we would truly appreciate your support. Whenever you have a shoebox ready please drop it into us and we will make sure it gets to the local depot.
Harvest Time Our newly formed Garden Club from Rang 6 were busy on Friday. They dug out the potatoes which were sown earlier in the year. Sincere thanks to David Curran (David Lawlor's Grandfather) for all his help with the planting last year. The potatoes will be shared out this week but the harvest is limited so unfortunately there won't be one for everyone in the school!!
---
Sunday, 8th October 2017: World Mission Sunday is in two weeks' time! Please remember that in two weeks' time, the Holy Father invites all Catholics to contribute to a special collection, the Mission Sunday collection. World Missions Ireland is the Holy Father's official charity for overseas mission and is responsible for coordinating Mission Sunday in Ireland. All of the Mission Sunday materials are available on World Missions Ireland's website – www.wmi.ie.
---
3 Hour Vigil
To commemorate the Centenary of the last Apparition in Fatima, in Holycross Abbey on Thurs 12th October (Eve of Apparition) from 7pm to 10pm Eucharistic Hour, Marian Hour and concluding with Holy Mass. Conducted By: Fr. Patrick Maria Cahill from the Community of The Family of Mary Rome, enrolling in the Brown Secular & Consecration to the Immaculate Heart of Mary, will take place. Main Message of Fatima: Our Lady's answer to Lucia's question, "What do you want?" "I want a chapel built here in my honour, I want them to continue saying the rosary daily." "They must convert their lives and beg pardon for their sins". "Do not offend the Lord Our God anymore. He has been so grievously offended." All are welcome to Come & Pray.
---
Safe Guarding Month in October
First week – The Archdiocese of Cashel & Emly is fully committed to Safeguarding and welcomes the Diocesan Safeguarding Children Policy and Standards for the Catholic Church in Ireland 2016. A concise Policy Leaflet is available in the Church and on the Diocesan website. Our Parish Safeguarding Representatives are Ann Lacey, Majella Walsh & Liz Walsh and they can be contacted via the Parish Office or through the priest.
Parish Meeting on Tuesday 10th October 2017, at 8.15pm in St. Mary's Hall. Agenda: Parish Audit.
---
Senior Citizens
Senior Citizen's Meeting on 11th October in St. Mary's Hall at 2.30pm. Enjoy exercise with John Cooke. Bingo, Music and Dancing and lovely Afternoon Tea. Please come along, we are looking for new members.
---
Ballynonty Community Field Committee
Are holding a Halloween Haunted House & Disco on Saturday 28th October 2017 in Glengoole Hall at 7pm. Admission €5.00. Raffle on the night. Prize for Best Fancy Dress. All are welcome.
---
Fr. Jimmy 086-8184787
email:jimmyodonnell14@gmail.com
Fr. Danny 086 – 2402482
www.killenaule.net email:killenauleweb@gmail.com
Facebook page: killenaulenet
Twitter:@killenaulenet
Tumblr: killenaulenet.tumblr.com
---
---