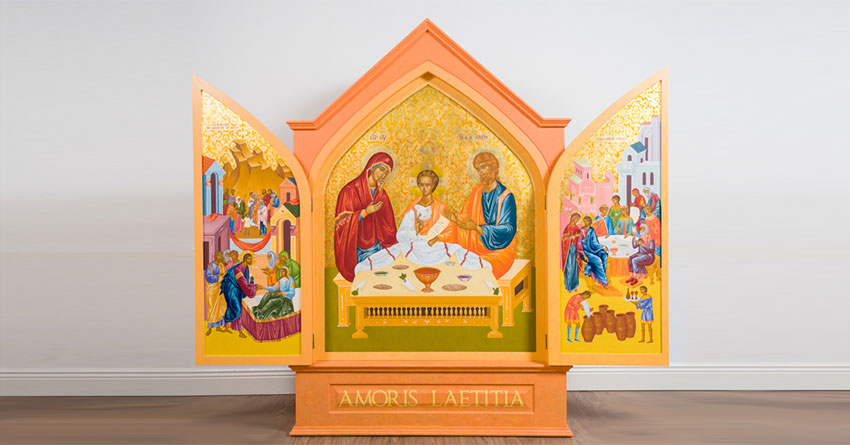 Welcome to the World Meeting of Families 2018 March Newsletter!
From an Ireland that is in the middle of unseasonably stormy snowy weather, with all the WMOF2018 team working from home because of the snow, we bring you our news and updates for WMOF2018.
We're hitting a number of exciting milestones around now – we have just passed the six months point from our great event in August. People are registering from all over the world to come to Ireland, our volunteer numbers are climbing rapidly, and our hosting programme is receiving a marvellous uptake from both pilgrims and hosting families alike! Today we are delighted to release an outline of our Pastoral Congress Programme and some of our keynote speakers!
Our team continues to expand and last month we welcomed seven new interns who are now working across five departments with our staff. Together, along with all the pilgrims who will participate, we hope to make WMOF2018 a wonderful, fun-filled celebration of love and family life for all who will attend.
Our Congress Programme is Now Live! Speaker details released!
We are delighted to announce that the outline of the three-day Pastoral Congress is now available on our website. The Congress will run from 22-24 August in the RDS, Dublin and is packed with major panels, workshops, testimonies, cultural events and music performances throughout each day. We also have breakfast lectures in the mornings for everyone but especially for members of the business community. The Congress will include the daily celebration of the Eucharist.
The events of each day are guided by a key theme from Pope Francis' document The Joy of Love (Amoris Laetitia), on love in the family, and will include topics on the joys and challenges of love, marriage and family life in today's world. Young people and children can also have a faith experience at our tailored programmes for children (4-12 years) and young people (13-17 years).
Places for the Congress are limited and include guaranteed tickets for the Festival of Families and Final Mass, subject to availability. Children under 18 years go free but must have a ticket.
Find details on the Pastoral Congress outline programme here.
View our list of confirmed speaker so far here.
Book tickets to attend the World Meeting of Families 2018 events here.
©WMOF2018
ST PATRICK'S DAY –
An invitation to prepare for the celebrations!
This St Patrick's Day we invite you to embrace the theme
God is Family, So are We
in the many celebratory parades, concerts, plays and performances that will mark the feast day of Ireland's patron saint. With St Patrick's shamrock at its heart, this theme reminds us that God is family (Father, Son and Holy Spirit) and so are we,
called to be what Pope Francis describes in the
Joy of Love
as 'a living icon of the Blessed Trinity'.
A selection of resources for the St Patrick's day celebrations have recently been dispatched to parishes throughout Ireland and the UK: car bumper stickers and window stickers bearing this year's St Patrick's day theme. Additional resources are available on the Amoris website – banners that can be used for parades and decorations, posters and colouring-in pages can all be downloaded from our Amoris.ie website: https://amoris.ie/patrick/
Credit Photo: WMOF2018
WHY NOT VOLUNTEER AS A GROUP FOR WMOF2018?
We invite existing groups resident in Ireland to volunteer for WMOF2018. Any group is welcome to apply to volunteer: choirs, sports organisations, walking groups, arts and crafts clubs, parish groups, youth organisations, music societies, college groups. It's a great way to build new friendships, strengthen existing bonds, learn new skills… and most of all, have great fun!
Anyone from 18 years and over can apply either as an individual or in a group if they are a resident in the island of Ireland. Young people aged 16-17 years can volunteer if they do so as part of a group.
Read about the benefits of volunteering as a group, roles for groups, steps to volunteer as a group and other details here.
©WMOF2018
HOSTING PROGRAMME – Calling for more Hosting Homes!
We have received enquiries to be hosted by families from 32 countries across the globe – Africa, Asia, Australia, North America, South America. Our call-out to people in the Greater Dublin area to consider offering a room in their home to a visiting family/pilgrim is meeting with great interest and success with many offers received already! However, we need a lot more help as we are looking to find 2,000 beds for pilgrims who want to travel to Ireland for our great event in August.
© Dicastery for Laity, Family and Life
INTERNATIONAL CATECHESES IN PREPARATION FOR WMOF2018
The Dicastery for Laity, Family and Life in the Holy See has made available the International Catecheses for the World Meeting of Families 2018. The seven catecheses, one for each month from here to August, are available in five languages and accompanied by musical itineraries—one for each catechesis—and videos of music. They are built around the Gospel narrative of the loss of the 12-year-old Jesus and his recovery in the Temple (Luke 2:41–52), with threads woven between the text of
Amoris Laetitia
—which inspires the Dublin Meeting—and the unique story of the Holy Family of Nazareth that reveals how timely and prophetic the proclamation of the Gospel of the family is.
Read more about the International Catechesis here.
© Des McMahon
REGISTER FOR WORLD MEETING OF FAMILIES 2018
Overseas registrations are increasing every day with thousands of people registered from over 62 countries! We have many thousands registered from all over Ireland as well. If you want to be sure you will be there, don't forget to book as soon as possible. Tickets are subject to availability! Registrations also help us to plan better for everything that is required in every venue, languages, age groups, special needs, logistical needs, among other things. And to avoid disappointment! Booking for the Pastoral Congress is now open on our website and includes the possibility of booking free tickets for the Festival of Families and the Final Mass, subject to availability. Childen up to 17 are
free
but still need to register as part of the family group. We will update you on single day tickets for the Festival of Families and the Final Mass once this information becomes available. We look forward to welcoming families from all around the world to Dublin in August 2018 and hope that you will be able to be with us.
Book now!
© Amoris.ie
AMORIS CONVERSATIONS –
Video resources for parishes on family life and Amoris Laetitia
Parishes will shortly be offering the first of six parish sessions as part of our
Amoris: Let's talk Family! Let's be Family!
Programme. The first theme that parishes will be looking at is "The Reality of Family Life Today". The videos to accompany this series are now live on the Amoris website.
These videos take as their starting point
people's experience of love and their hopes and fears with regard to marriage and family. These are part of a selection of resources to facilitate interactive and participate parish conversations.
You can find out more about the parish programme and related resources here.
CONFIRMATION INITIATIVE– Confirmation Acts of Kindness
Are you making your Confirmation this year? Are you involved in Confirmation preparations? Check out our Confirmation Amoris initiative and start registering your acts of kindness. We now also have the Acts of Kindness Certificates available online in English and Irish ready for download.
©WMOF2018
ST VALENTINE'S DAY TOKENS –
Thank you to everyone who used and shared these tokens!
As part of the preparations for WMOF2018, we invited people to mark St Valentine's Day in a special way with a book of tokens to share with those they love. The tokens invited people to give a gift of self and time to celebrate love and help it grow, rather than simply relying on the more commercial approaches to the saint's day. We have received many stories about how these tokens are helping couples and families across the country to grow and rekindle their love!
https://amoris.ie/valentines/
The AMORIS FAMILY CUBE
In the last two week we dispatched over 24,000 Amoris Family Cubes to parishes all around Ireland and beyond: 700 cubes are winging their way to New Zealand and about 1000 are travelling to the UK. The Amoris Family Cube is a resource for children making their First Holy Communion and contains six practical messages on how to show love among the family and with friends, neighbours, in school and the community.
More details on the Amoris Cube here.
©John McElroy
RESOURCES FOR THE WMOF2018 ICON OF THE HOLY FAMILY –
journeying around Ireland
The WMOF2018 Icon of the Holy Family has been travelling to each of the 26 dioceses in Ireland since it was unveiled and anointed in August 2017 during the launch of the one-year programme of preparation at Knock Shrine. We estimate that when it finishes its journey in August 2018 it will have travelled 32,200 km!
Accompanying the icon are petition boxes, where families are writing down their intentions and prayers. Contemplative communities around Ireland are praying for the intentions being collected. The petitions will also be brought to World Meeting for Families 2018.
Check our new section on resources for the icon, where you will be able to access explanations, reflections and prayer resources for a visit of the icon.

©Des McMahon
BOOKING OPEN FOR ORGANISATIONS TO EXHIBIT AT THE THREE-DAY PASTORAL CONGRESS
We are delighted with the response we have received regarding exhibition stand applications for our Pastoral Congress in the RDS. We are going to have a great exhibition space with over 300 stands! If you have sent an exhibition application form in to our offices already, thank you, you will hear from us shortly. If you have not, and you are interested in applying for a stand, we would advise sending in the application in as soon as possible.
Check our website for further details
. If you have any questions please email us
exhibition@worldmeeting2018.ie
©WMOF2018
ADVERTISING OPPORTUNITIES
Please note that we are now starting to work on plans for the official programme book that all pilgrims will receive when they come to the RDS. In addition to this, we are working on possible commemorative or photograph books after the events in August which will hopefully capture the essence of WMOF2018. We confirm that the WMOF2018 is the only official publisher for WMOF2018. We have made no arrangements at this point with any external publisher. If you are interested in receiving information on advertising opportunities, please email us at
marketing@worldmeeting2018.ie
and we will send you the details once these become available. Thank you.
PROMOTIONAL MATERIALS AVAILABLE ON OUR ONLINE SHOP
The largest gathering of families in the world is coming to Ireland! We have produced a number of items to support the promotion, preparation and celebration of this extraordinary event. Visit our shop to order promotional materials and check our resource section for posters that you can download and print.
WHAT'S NEW ON OUR WEBSITE
Our website is updated every day. We invite you to view the latest updates and check out what sections and information has been added to our site. Click here.
BLOG – My year as a Volunteer Translator for WMOF2018
Read volunteer Niall McElwaine's (pictured on the left) account of his year spent working with the WMOF2018 team as a volunteer, translating and proofreading documents in Irish. Niall's commitment and enjoyment of the role is such that he says the two hour journey by train, Luas, bus and on foot to the WMOF2018 offices in Dublin is worth the effort – thank you Niall, and thanks also to all our volunteers!

Other topics in our series of blogs include:
The Joy of Love: Tapping into Some Practical Advice for Families, by Julie Kavanagh.
Ten ways you can support the WMOF2018 with six months to go, by Brenda Drumm.
WMOF2018 LATEST PODCAST
'Let's Talk Family', our weekly podcast, features interviews and news about how preparations are going for WMOF2018, as well as discussions about the joys and challenges of family life as we journey towards next year's event. In our latest podcast, Fr Tim Bartlett, Secretary General of World Meeting of Families 2018, talks about his hopes for the event and brings some updates and latest news on preparations for August.
Listen here to the interview.
Copyright © *World Meeting of Families 2018*, All rights reserved.
World Meeting of Families 2018
Dublin, Ireland, 21-26 August 2018
"The Gospel of the Family: Joy for the World"
WMOF2018, Holy Cross Diocesan Centre, Clonliffe Rd., Dublin 3, Ireland
Tel.: +353 1 567 6800 Email: info@worldmeeting2018.ie
www.worldmeeting2018.ie